A Holistic and connected catalog with lifecycle governance for all APIs.
Oracle and digitalML are partnering to enable enterprise customers to achieve wholistic API Management in a multi-cloud world.
By providing a view of APIs across all runtimes and gateways, ignite unlocks insight into security risks, your most popular APIs, what redundant/duplicate APIs you may have, API lineage and impact analysis, and your API portfolio maturity.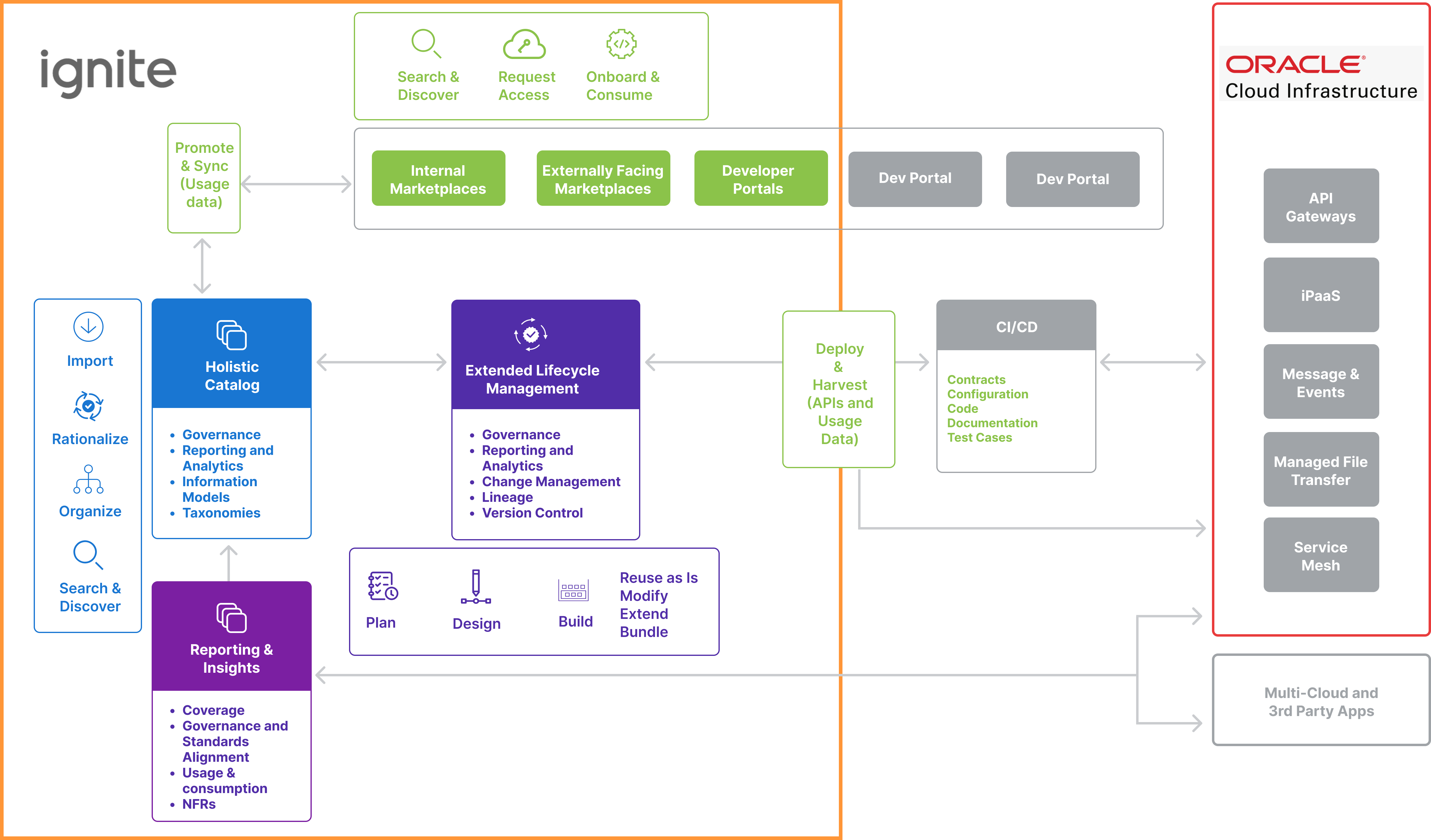 Book A Discussion
The ignite Platform provides Extended API Lifecycle Management that can be a tremendous value for Oracle's API Gateway customers.
In addition, ignite helps enterprises migrate to Oracle's OCI & realize value faster with:
✅ Tailored views for self-service adoption with consumers able to easily discover, evaluate, and onboard gold standard APIs
✅ A way to market your best APIs
✅ Increased business revenue opportunities
✅ Increased efficiency and cost saving across developer community
✅ Increased speed to market
ignite's Holistic Catalog provides a better way to catalog, manage, govern, and drive value from your entire API landscape.
Consumer Portal(s)
Configurable React based portals with tailored experiences for internal and external consumers to increase API discovery, adoption, and reuse.
Holistic Catalog
for all integration types, easily searchable by technical & business users. Provides a way to curate gold standard APIs for consumer experiences while managing all inventory.
Optimized Lifecycle Management
Manage changes and versions correctly, connect to planning, automate common patterns, bake-in and decentralize governance, and generate consistent contracts, configuration, SDKs, and documentation.
Connected to your IT Landscape
agnostic of run, ignite connects to and extends CI/CD pipelines and gateways like Oracle OCI API Gateway.